200 Hr Yoga Teacher Training (September 2024)
September 13, 2024

-

September 30, 2024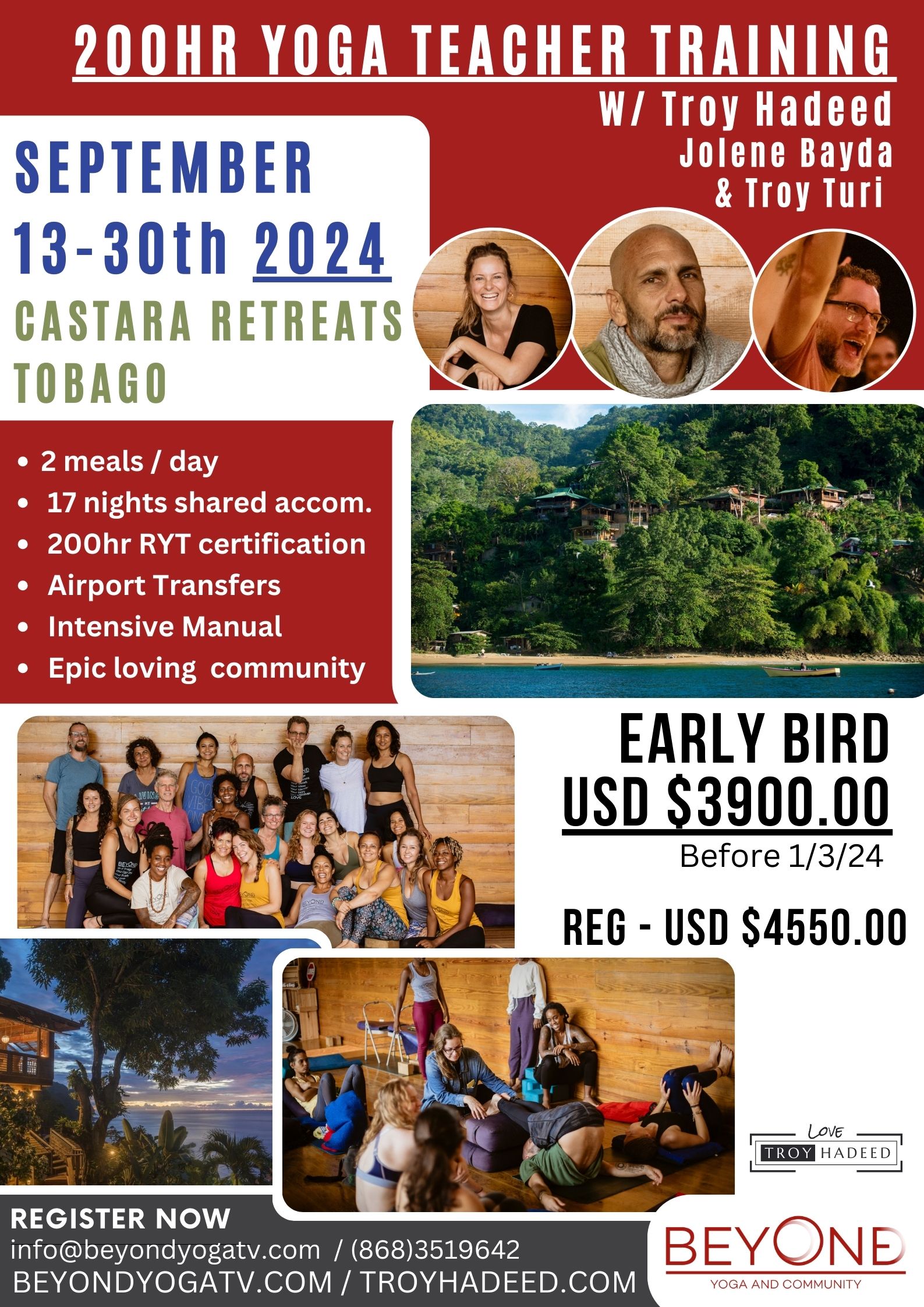 About This Teacher Training:
This 200HR Yoga Teacher Training is scheduled for September 13th-30th 2024.
Faculty; Troy Hadeed / Troy Turi / Jolene Bayda
Lead Teacher – Troy Hadeed  – troyhadeed.com
Anatomy – Jolene Bayda – jolenebayda.com
Philosophy – Troy Turi – turiyoga.com
Location; Castara Retreats Tobago
castararetreats.com
Pricing;
Security deposit – USD $500
Early Bird – USD $3900 (Full Payment before 1st March, 2024)
Full Price –  USD $4550.00
What is Included
– 2 meals a day (lunch & 2-course dinner)
– Shared Accommodation. 2-3 persons per room with kitchenette & bathroom. (Single Accommodation available upon request at an additional cost)
– 200hr RYT certification (200 contact hours + distance learning)
– Airport Transfers from A.N.R Robinson International Airport Tobago
– Intensive Trainer's Manual
– Access to "Get Out Of Your Way" an online course for teachers
– Epic loving and supportive community

Payments:
Down payments and payment plans are available via the purchase of this product.  100% of the payment must be made by July 13th, 2024 Payments can also be made online at beyondyogatv.com, in-studio at Beyond Yoga Trinidad OR online via bank transfers.
(Please request info via email – [email protected])
————————————————————————
The Curriculum covered will include but is not limited to;
– Daily practice of meditation, pranayama, and asana led by Troy Hadeed
– Traditional Yoga Philosophy & its application in today's world
– Teaching methodology & fundamentals
– Posture clinics and Asana Labs
– Sequencing, Adjustments & Cueing
– Fundamentals of Anatomy
– Anatomy of Breath & Spirit
– The 'business' of Yoga; responsibilities and ethics
– Living Yoga
– Practice teaching & more practice teaching
About This Training
There are no words to describe the magic that comes to life when these three come together. Each of them brings their own perspectives, approaches, and love of yoga but all point to the same thing in different ways. How can we live yoga? How can we be better human beings? Where can we do better? What does it mean to love and where can we create space to deepen our relationship with Spirit?
With hundreds of teacher trainings out there we understand that it could be difficult to choose the right teacher training for you. Here is a little of what you can expect from this teacher training and what is important to us at Beyond Yoga.
While the priority is to give practitioners the foundations to become amazing and powerful yoga teachers, our intentions far exceed giving practitioners the tools to teach yoga. At the core of being an amazing yoga teacher lies the commitment to being a student of yoga and committing to the path of self-inquiry so that we can embody the understanding, compassion, and love needed to embody Yoga.
This is an intensive training, but there will definitely be time and space created to enjoy the magic of Castara; ocean swims, waterfall dips, and the warmth of the people are all part of our agenda.
Being 200 hr teacher training registered with Yoga Alliance, all necessary requirements will be met. Within this 18-day intensive training, participants will be led through 200+ contact hours with lead trainer Troy Hadeed, along with Jolene Bayda, and Troy Turi. Additionally, there will be a bonus of 20-40 hours of distance learning.
——————————————————————–
F.A.Q & Additional Notes;
When does the training begin exactly?
Training begins at 430pm on the evening of September 13th, 2024
(Come ready to practice).
What about breakfast, snacks, or special nutritional requirements?
Practitioners are responsible for their own breakfast and snacks if necessary. All rooms are equipped with a self-contained kitchen for your use. The restaurant at the retreat does open at 11 am, and you can purchase additional items if you need them. Specific dietary accommodations can be provided for by the kitchen, but we must know 90 days prior to training. If you require seafood with your meals this can be provided at no extra cost, meat can be accommodated with an additional cost.
What Airport do I fly into?
The only airport in Tobago is A.N.R Robinson International Airport, and your shuttles will be arranged from there on September 13th 1st, returning on September 30th. Please note that some flights may connect through P.O.S. Trinidad to Tobago, be sure to allow at least 2 hours for your connection. Independent booking of your Trinidad to Tobago flights can be booked at www.caribbean-airlines.com
If you are arriving at the retreat centre before September 13th or choose to go to the retreat centre earlier than the scheduled shuttles you will be responsible for your own transport and accommodation. If you are staying at Castara Retreats outside of the training dates to check out the beauty of Tobago and explore please advise Castara as you may be eligible for discounted rates. We can assist you with booking extra nights.
For additional queries & registration;
[email protected] / 1-(868) 351-9642
"If I did not believe that the practice of Yoga increased our capacity to love and deepened our relationship to our understanding of God I would walk away from it immediately"  – Troy Hadeed –